Today's post is a little different as I'd like to draw your attention to something that has been on the site for a while now, but is perhaps underutilised by many of you. I'm talking about the e-player that usually sits on the sidebar, and has the best highlights from matches in the newly branded Aviva Premiership.
Rather than let it sit there untouched, its probably good to experiment with this by posting it as a main post, allowing you the user to catch up on all the matches and give feedback on whether you like this type of format.
It's handy in that you can easily choose exactly which match you're after, then watch a short recap of that particular game. There are also the occasional match previews and competitions, as well as highlights of other goings on if you fiddle with the navigation.
The beauty of this is the speed at which the highlights are up, as today is Monday and all but one of the Premiership games from the weekend are already there. Last weekend's matches are also included. If a game is ever missing, just check back as it will be updated soon.
I won't go through each match, but there's a few things worth checking out, namely two
incredible tries
scored by Wasps against Newcastle. The first came from Tom Vardnell after a missed penalty kick, and the second from some sensational handling after a nice Richard Haughton break.
Also take a look at the
red card
for George Stowers in the Bath vs London Irish game. He was given a straight red for his high shot on Nick Abendanon, who at the time looked to be knocked out for a brief period of time.
It may look a little different to what you're used to, but if posting the player like this is handy for you, please say so and the same will be done again next week. Also, if there are any particular incidents from the Premiership that you would like featured or shown again, please get in touch.
_____________________________________________________________________________

Promo spot:

Barbarians vs South Africa - Twickenham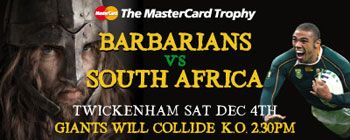 The Barbarians face the Springboks at Twickenham on December 4th in what should be a highly entertaining clash with a whole host of international players. As a special promotion, if you buy a full price adult ticket before Wednesday (Sep 15th), you will receive access to 25% off through a merchandise voucher code. Get your tickets at ticketmaster by clicking here now